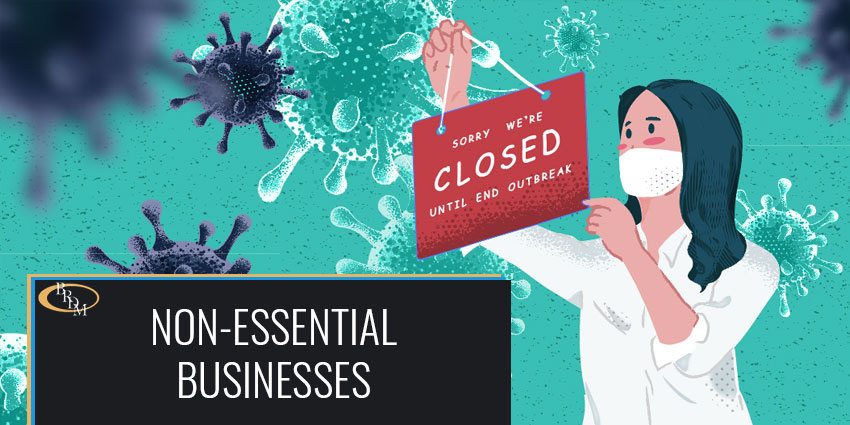 ESSENTIAL SERVICES, ACTIVITIES, AND BUSINESSES IN PINELLAS COUNTY
---
Last modified on April 7th, 2020 at 10:47 pm
Within the past several weeks, there have been multiple orders passed both in Pinellas County and the State of Florida related to the coronavirus pandemic. These orders include that certain non-essential businesses must close, and that individuals should limit their movements outside the home to do only those movements necessary to obtain or provide essential services or to conduct essential activities.
What Constitutes an Essential Service, Essential Activity, or Essential Business?
You may have questions about what constitutes an essential service, essential activity, or essential business under these various orders. Below is an overview of same.
On March 17, 2020
The Governor of Florida issued Executive Order 20-68, which set forth restrictions on alcohol business sales, bars, pubs, nightclubs, beaches, and restaurants.
On March 20, 2020
The Governor entered Executive Order 20-71, which includes the following: (i) vendors licensed to sell alcohol are to suspend selling alcoholic beverages for on-premises consumption (but may continue to sell alcoholic beverages in sealed containers for off-premises consumption), (ii) restaurants and bars must suspend on-premises food consumption (but may provide delivery or take-out services); and (iii) gymnasiums and fitness centers must close (but such closure does not apply to hotel amenities which have a capacity of ten persons or less, to a residential building amenity, which are interior to fire or police stations, or which are located inside a single-occupant office building).
On March 20, 2020
The Governor also entered Executive Order 20-72, which provides that health care practitioners (such as dental offices, surgical centers, and hospitals) are prohibited from providing medically unnecessary, non-urgent, or non-emergency procedures or surgeries.
On March 20, 2020
The Pinellas County Board of County Commissioners entered Resolution 20-17, which ordered that all public beaches and public beach parking were to be closed.
On March 26, 2020
The Pinellas County Board of County Commissioners' Resolution 20-20 – otherwise known as the "Safer at Home Order" – took effect. This order contained safety directives for businesses, provided that places of public and private assembly were required to close, stated that essential businesses were permitted to remain open, and also permitted non-essential businesses to remain open so long as they were able to meet CDC guidelines for social distancing.
On April 1, 2020
The Governor issued Executive Order 20-91. This Executive Order became effective April 3, 2020, and it was subsequently amended to supersede any conflicting official action or order issued by local officials in response to COVID-19. The order is set to expire on April 30, 2020, and it provides that Executive Order 20-68 (bars, restaurants) and Executive Order 20-71 (alcohol sales, restaurants) remain in effect through the duration of Executive Order 20-52, including any extensions.
Many businesses have already made the decision to have its employees work from home/work remotely during this pandemic. This is an appropriate decision under the Governor's Executive Order. The Governor's Executive Order 20-91 expressly states that nothing in this order prohibits individuals from working from home, and individuals are encouraged to work from home.
Executive Order 20-91 orders that all persons shall limit their movements and interactions outside of their home to do only those necessary to obtain or provide essential services or conduct essential activities. The Executive Order defines "essential services" as (i) those set forth in the U.S. Department of Homeland Security in its Guidance on the Essential Critical Infrastructure Workforce, v. 2 (March 28, 2020) and any subsequent lists published, (ii) those businesses and activities as designated by Executive Order 20-89 and its attachments (which consists of a list propounded by Miami-Dade County in multiple orders), and (iii) those other "essential services" which may be added under this order with the approval of the State Coordinating Officer and in close coordination with the State Health Officer.
On April 2, 2020
The Pinellas County Board of County Commissioners held an emergency meeting and issued Resolution 20-23. This order provides that any retail business, operation, or organization ("business") which is not within the category of "essential services" or "essential activities" pursuant to Executive Order 20-91 must close. Any businesses which continue to operate pursuant to 20-91 must – to the maximum extent possible – implement and comply with the current CDC guidance on social distancing and hazard mitigation (including personal proximity, sanitation, and hygiene). Lastly, the County Administrator has the power to issue an order closing any business which is not in compliance with this order.
The Pinellas County Sheriff's Department and Pinellas County Board of County Commissioners subsequently issued a "State of Florida & Pinellas County 'Safer-At-Home Guidance'" which provides insight on what non-essential businesses shall close in Pinellas County under the Governor's Executive Order 20-92 and the Pinellas County Board of County Commissioners' Order. The Guidance provides that the following non-essential businesses must close:
Acupuncture (unless service is under the care of a medical provider);
Antique stores;
Auction houses;
Automotive tint, wash, detail, and accessory businesses;
Beauty supply stores;
Bookstores;
Clothing and shoe retail, rental, or consignment;
Craft, art, and hobby supply stores;
Day/beauty spas, hair or nail salons, and barber shops;
Décor and lighting sales businesses;
Entertainment establishments;
Florist businesses;
Fitness, dance, pilates, and yoga studios and gyms;
Jewelry stores and jewelry repair businesses;
Massage (unless service is under the care of a medical provider);
Music and instrument stores; music lesson providers;
Museums;
Optical retail stores (non-prescription);
Painting, craft, or art studios;
Pet grooming businesses (including mobile and those co-located with pet retail stores);
Pet sales and adoptions (excluding on premises animal care);
Smoke, tobacco, CBD, or vape stores;
Spa sales businesses;
Sporting goods sales and repair businesses;
Stereo installation and sales businesses;
Tattoo and piercing services;
Toy retail stores, game, or amusement rental businesses; and
Vitamin stores (unless service is under the care of a medical provider).
Further, the Guidance provides that as set forth in the Governor's Executive Order and the Pinellas Board of County Commissioners' Order, essential services are defined as follows:
Banks and financial institutions;
Community based organizations providing meals and social services;
Critical trades (plumbers, electricians, exterminators, security personnel, etc.); fire and water damage restoration, appliance repair personnel, exterminators, and other service providers (such as landscape and pool maintenance service providers) who provide services that are necessary to maintaining the safety, sanitation, and essential operation of residences and other structures;
First responders, police and fire, jails and prisons;
Food and beverage (grocery stores, food banks, alcohol sales, restaurants: delivery, take-out or curbside delivery);
Funeral services;
Garbage and sanitation workers;
Gas stations;
Government operations;
Hardware, garden and supply stores;
Hospitals, clinics and other healthcare operations;
Hotel and lodging;
Human service operations;
Laundromats;
Post offices and shipping services;
Transportation: including airports and public transportation such as PSTA; and
Utilities, public works and essential infrastructure.
Lastly, the Guidance state that under the Governor's Executive Order and the Pinellas Board of County Commissioners' Order, essential activities include:
Attending religious services conducted in churches, synagogues, or houses of worship;
Caring for or otherwise assisting a loved one or a friend;
Participating in recreational activities (consistent with social distancing guidelines) such as walking, biking, hiking, fishing, golfing (golf courses may remain open) hunting, or swimming
Recreational boating (boat ramps, marinas, and bait/tackle shops may remain open); and
Taking care of pets.
Is the Safer-at-Home Guidance All-Inclusive?
While the Safer-at-Home Guidance states it is not all-inclusive, it provides a detailed overview on what constitutes an essential and non-essential business, essential service, and essential activity in Pinellas County, Florida.
More local and statewide orders may follow.
It is important to ensure compliance with the Governor's Executive Orders and the Pinellas County Board of County Commissioners' Orders. Businesses who do not comply with these Orders can face an order to close. Violators can also face criminal fines or penalties: violating these orders can result in a second degree misdemeanor punishable with up to sixty days in jail and a $500 fine. Further, the Chief Judge of the Sixth Judicial Circuit entered an administrative order on March 27, 2020 announcing that that anyone who is arrested on a misdemeanor violation of the coronavirus quarantine will be held without bond at the jails in Pinellas and Pasco counties.
The employment law attorneys at Battaglia, Ross, Dicus & McQuaid, P.A. hope that you remain healthy and safe during these difficult times.