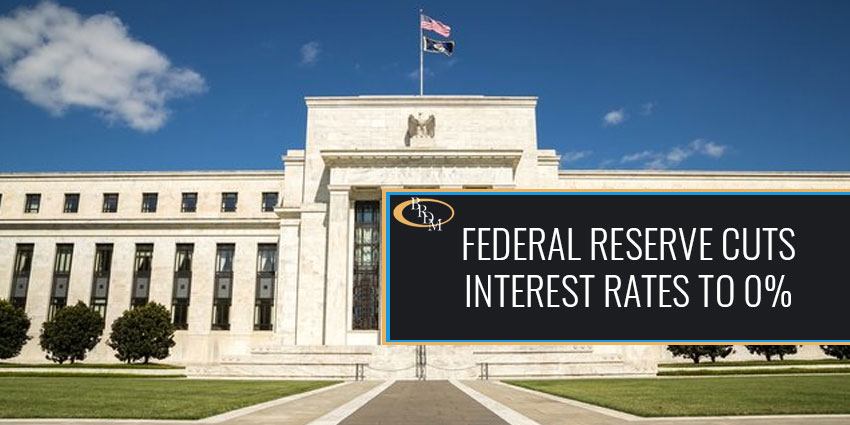 Federal Reserve Cuts Interest Rates to 0% Making Refinancing and New Purchases Attractive for Homeowners
In an effort to combat the negative economic implications of the Coronavirus (COVID-19), the Federal Reserve made the decision this past weekend to cut interest rates to 0% for the first time since the financial crisis of 2008. This emergency rate cut is the second significant rate cut made this year in response to the Coronavirus which has caused the world great distress over the past few months and even more so in the United States in recent weeks. The first rate cut by the Federal Reserve in response to Coronavirus came only a few weeks ago when the Federal Reserve elected to cut the Fed Funds Rate by .5% or 50 basis points. The second rate in response to the Coronavirus cut came this past Sunday and effectively took the Federal Funds Rate to 0%. When the Federal Reserve makes a rate cut it decreases the interest rate of the "Fed Funds Rate" which represents the interest rate at which banks and other depository institutions lend money to each other. Indirectly, a cut in the Fed Funds Rate will generally equate to lower interest rates in other lending sectors which includes mortgage rates. While the Fed Funds Rate does not directly affect the rate at which Banks offer mortgages to borrowers, many lenders generally take their cue from the Federal Reserve and the Fed Funds Rate when determining at what rate to loan funds. Therefore, a lowering in the Fed Funds Rate will generally equate to or influence lower mortgage rates. The actions recently taken by the Federal Reserve will likely present a significant opportunity for both current and prospective homeowners to either refinance their current mortgage or purchase a new home with borrowed funds at a historically low interest rate.
In the coming weeks or months, I project that homeowners will be able to borrow money at the lowest rates since "The Great Recession" and quite possibly some of the lowest rates this nation has ever seen. Taking advantage of these low interest rates would allow homeowners the ability to lock in a low rate for up to 30 years which equates to thousands of dollars saved over the term of a long-term mortgage loan. For those who are unfamiliar with the process, when you refinance your mortgage at a lower interest rate, you apply for and procure a loan in an amount that pays off your existing higher rate mortgage. The higher rate mortgage is then satisfied and the new lower rate mortgage replaces the old. The result is considerable interest savings in the long run.
Refinancing can also be a tool used to consolidate higher interest rate debt like credit card or student loan debt; this technique is known as the "Cash-Out Refinance." St. Petersburg, Tampa, Clearwater, the Tampa Bay Area, Pinellas County, and Hillsborough County have experienced substantial price appreciation in real estate over the past 10 years. If you bought your home more than a year ago, chances are that the value of your property has increased and you have significant equity. If you have debt you would like to pay off, you can borrow against the equity in your home to pay off high interest debt while refinancing your higher interest rate mortgage at today's lower interest rates. This technique would allow you to eliminate your high interest debt, which could be 15%+ interest and instead pay that amount over 30 years at a rate of 4% interest or lower. The run up in real estate values and the recent interest rate cuts presents an excellent opportunity for someone looking for a fresh start by eliminating existing debt.
Refinancing Options
For those looking to refinance, you should be aware that there is a backlog due to prospective borrowers looking to refinance due to the recent rate cuts. Because of this increased demand, it is possible that lower interest rates are not yet reflected in mortgage rates and timing could be crucial. For this reason, and many others, I recommend that you align yourself with an experienced and knowledgeable mortgage lender representative or broker who can help you navigate the process and to assist you in procuring a loan at the lowest possible rate. Choosing a mortgage lender can be a challenging and difficult task especially for someone who does not have personal contacts or someone who is new to borrowing money. The first thing I recommend looking for is a mortgage representative that has been in the industry for some time. When I say "some time," I mean someone who was in the industry of lending funds or brokering mortgages prior to the collapse of 2008 and who is still in the industry today. A lender representative that has continuously operated during that period of time has experienced the highs and the lows of the market and will be in a position to understand what is happening in today's landscape and to effectively advise you based upon experience.
What is a Good Refinancing Rate?
You may ask yourself what rate is a good rate in today's landscape. This answer is largely going to be dependent upon your financial stability. Factors that come into play are income, borrowing experience or credit, credit score, consistent earnings, and amount of other debt you may have. Lenders prefer individuals with high earnings in comparison to the monthly payment they can be expected to make on the loan they are seeking. Lenders also look for consistent credit history over several different categories which include: credit cards, installment payments, utility bills, mortgage loans, and auto loans. A lender will also examine your overall debt and compare that to your income levels to calculate a debt to income ratio. For a borrower that has a strong income, low debt, and a solid credit score is the 700s (or higher), and a low debt to income ratio I would look to the number: 3% interest as a benchmark. If you have the ability to procure a loan at 3% interest for a 30 year mortgage this is historically an extremely low rate that you may not see for a significant period of time if you ever see it again.
Our office is experienced in handling the closing of refinance loans and new home purchases. If you have any questions about this process feel free to reach out to Andrew R. Pardun at 727-381-2300 or apard@brdwlaw.com.