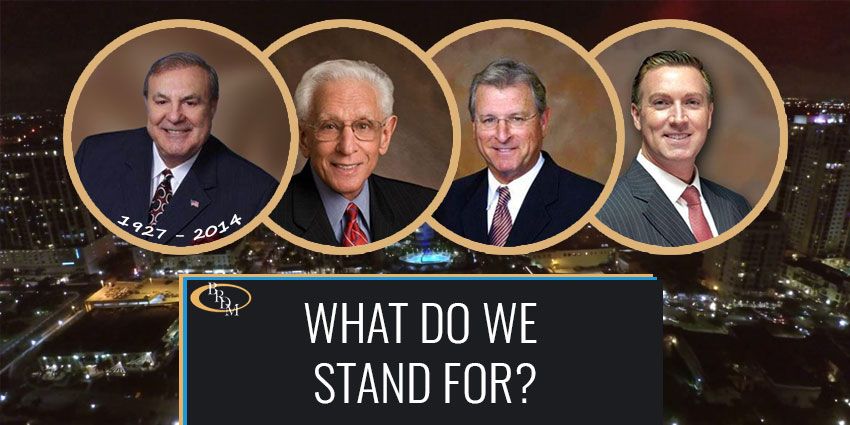 What Do We Stand For at Battaglia, Ross, Dicus & McQuaid?
---
Last modified on September 1st, 2019 at 10:12 pm
Our firm was founded in 1958 by Anthony Battaglia. We are one of the oldest firms in St. Petersburg and are still going strong. Some of the most successful lawyers and respected judges in Florida are alumni of Battaglia, Ross, Dicus & McQuaid. When I think about our firm, I look back to when I first heard about Mr. Battaglia.
When I moved to Florida in 1997, Mr. Battaglia's youngest daughter, Christina, was a semester behind me in my law school class at Stetson College of Law. The students and professors all talked about how her father was a prominent lawyer in town and a mover and shaker in politics. I remember being impressed.
When I graduated from law school, I applied for jobs at firms all over Tampa Bay, including our firm, which was called Battaglia, Ross, Dicus & Wein at the time. I received job offers from many firms, but my interview with Mr. Battaglia was quite memorable. I remember walking into his office at the location on Tyrone Blvd. His office was furnished with ornate gold-trimmed Italian furniture. His walls were covered with awards and photographs with famous politicians. When he stood up from behind his desk, he was a large and imposing figure. Walking into his office reminded me of a scene right out of the movie The Godfather! In any event, we shook hands and he interviewed me for a few minutes, Suddenly, he turned to the office manager and said, I would like to make this young man an offer. I knew right from the moment you walked into the room and shook my hand that you were the right man for the job. I was offered a job and accepted on the spot.
Background
When I started, I was the eighteenth lawyer and was to serve as Mr. Battaglia's associate. By that time, Mr. Battaglia was much older than me and I always looked at him like a grandfather. Mr. Battaglia taught me the value of hard work, how to prepare cases, how to speak to people, and how to handle myself as a lawyer. The example he set was invaluable and I watched and listened to his stories for years until his retirement at age 85. I learned what the firm was like before I got there. Mr. Battaglia was a former federal prosecutor in Miami, so he had a criminal law background. But, once he moved to Pinellas County, he had to diversify his practice. He handled all types of civil cases and as Pinellas County was being built out with homes, he started representing the big developers. As a result of the influx of real estate closings, the firm swelled to close to forty lawyers to meet the demand. But, Mr. Battaglia always loved the challenge of representing public figures charged with high profile crimes. His office and the hallways of the firm were covered with newspaper articles of his exploits.
Eventually, I graduated from working solely with Mr. Battaglia. After a few years with the firm, I was ready to try other types of cases. I was impressed by Aubrey Dicus' law practice. I remember thinking that Aubrey's clients were extremely loyal, he worked tirelessly for them, he never backed down and yet still was admired by opposing lawyers. As I began to work alongside Aubrey, we developed a bond and he became a mentor and role model to me. He was extremely quick on his feet and could outwit any lawyer he was up against when he had to. He could cross-examine anyone to elicit the points that he was trying to make. Watching Aubrey, I learned how to treat clients and other lawyers and how to develop my own loyal client base. I have patterned much of my law practice based on the example he set.
Battaglia, Ross, Dicus & McQuaid, P.A. Presently
I have been with the firm since 2000. Over the years I have worked alongside some of the most talented lawyers in the area and I have learned from each of them. We presently have seven lawyers who are all talented and leaders in the community. Howard Ross has always handled different areas of law than me but has always been there for me when I had a question. Howard literally wrote the book on corporations and business transactions in Florida, so he has always been a wealth of knowledge on intricate points of law.
We have a beautiful office in a great location that is convenient for our clients. We work tirelessly for our clients and always have their best interests in mind. Clients are not seen as a source of income. Clients are our friends, neighbors, and treated like family. We believe that we serve an important function in their lives and our careers are built on helping people. Our reputation is more important than any fee that we earn. Most of our clients come to us for all types of legal questions even after their cases have concluded. We are dedicated to serving the community and the residents of St. Petersburg and the greater Tampa Bay area for years to come.